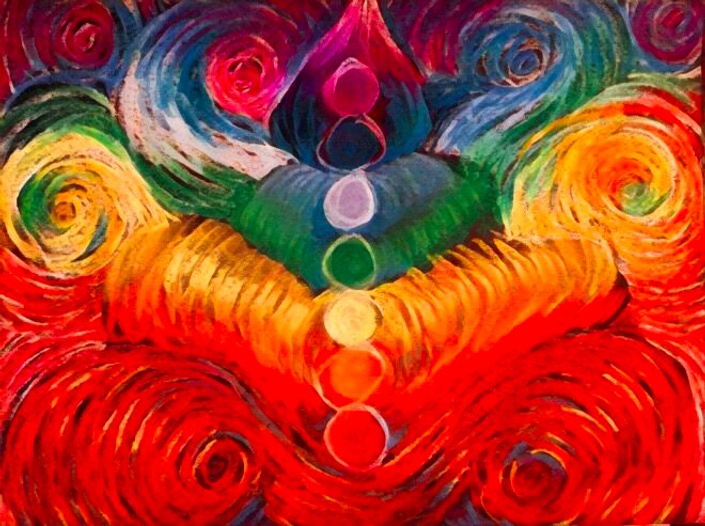 (LIVE Online Masterclass) Healing Through The Chakras
Step by step guide to clearing, strengthening and manifesting through each of your chakras!
Watch Promo
Opening for Enrollment in August, 2017
Applicable for Self Help and Mental Health professionals.
(7 Live and 7 Self-Study CE contact hours for LCATs in New York State)
At the inner core of each of us spin wheel-like energy centers or vortices. These energy centers are referred to as "chakras" and each one reflects an aspect of our inner and outer experience, as well as the degree of consciousness we have around those experiences.
When these chakras are in balance they are able to integrate mind, body, and spirit. They help us organize our life force energy, and provide a powerful tool for mental, emotional, spiritual, social, and physical growth.
The chakras act as points of connection between our physical and non-physical bodies, enabling energies to flow from one of these vehicles of manifestation to the other. They are the means by which we absorb energy from and externalize energy to the environment, and exchange energy with others. There are many chakras related to the human body, but the seven most primary are: the Crown, Third Eye, Throat, Heart, Solar Plexus, Sacral, and Root Chakras.
It's important to note that the chakras evolve in development up until early adulthood, and then they start a second cycle of development.
And at that point, our trajectory is not so clearly defined.
For many people, upper chakra development never happens and they remain stuck in a victimized place of dependency, powerlessness, and are never able to break free of their limiting beliefs and intergenerational patterns of relating. As a result they never discover the full potential of their capacities as an integrated human being, leaving the wellsprings of their higher self and inner knowing, untapped.
In other words, we have to WANT to grow! And if we don't, it may not happen at all.
When we are blocked in any one or more of our chakras, we may fall into habitual patterns that render us stuck, throwing us continually back into survival mode. Or, we may be unable to ground ourselves, lost in a flood of overwhelm and ideas, dissociated from the real world.
Unblocking a chakra requires addressing the problem on at least four levels:
Understanding the dynamics of that chakra.
Examining the personal history related to that chakras issues.
Applying creative interventions.
Balancing over and under active aspects of the chakra.
If you find yourself wondering if you have chakra imbalances, consider this: In the past year…
Did you make more or less money?
Spend more or less time with family and friends?
Did you eat healthier foods, spend time on self-care, or put money away for your retirement?
Did your lifestyle expand to include travel or exploring new and exciting experiences?
Did you explore your spiritual self and make time for meditation, or to exercise your creativity?
Did your relationships bring you a deepening sense of intimacy and satisfaction?
Did you envision what you want for your future and establish an action plan to get there?
Are you living your life with a sense of purpose, passion and fulfillment?
If you suspect you might have not gotten very far on any of these levels, our
LIVE Online Master Class
A 7-Week Course Incorporating Mindfulness, Creative Arts Therapies and Energy Healing,
may be right for you.
This course includes: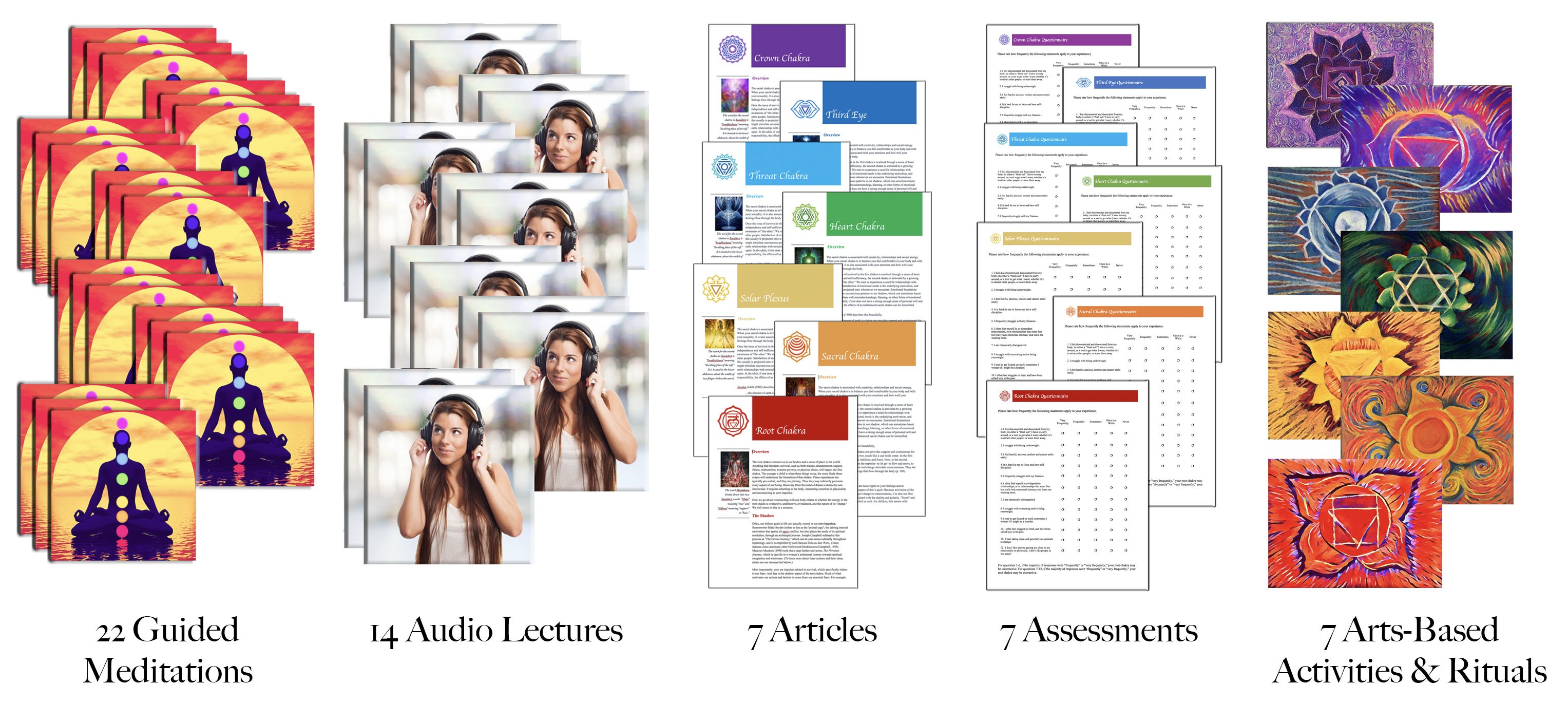 PLUS...
Access to 7 LIVE Online Webinars with Licensed Creative Arts Therapist, Author, Educator and Reiki Practitioner, Briana MacWilliam ATR-BC, LCAT, and Health Coach and Shamanatrix, Kristen Boyer, MPS, HC, during our Master Class in August, 2017.
During this 7-week webinar series, we will Broadcast LIVE, once a week, to review the course material and answer any questions students may have.
These webinars will be EXCLUSIVELY for individuals who signed up for this course.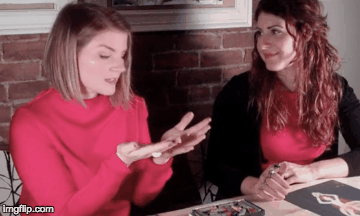 Participants of this course will be able to:
Identify the locations of at least 3 out of 7 chakras of the body.
Identify the names of at lease 3 out of 7 chakras of the body.
Identify the shadow aspects of at lease 3 out of 7 chakras of the body.
Identify psychological theories relevant to at least 3 out of 7 chakras of the body.
Identify examples of "top-down" versus "bottom-up" approaches to creative arts therapies interventions.
Dates for the LIVE Presentations
The Root Chakra
Wednesday, August 16th, 2017 at 7pm

The Sacral Chakra
Wednesday, August 23rd, 2017 at 7pm

The Solar Plexus
Wednesday, August 30th, 2017 at 7pm

The Heart Chakra
Wednesday, September 6th, 2017 at 7pm

The Throat Chakra
Wednesday, September 13th, 2017 at 7pm

The Third Eye
Wednesday, September 20th, 2017 at 7pm

The Crown Chakra
Wednesday, September 27th, 2017 at 7pm
---
For LCATs in New York State, or for art therapists looking for CE credits through the ATCB, this course offers:
7 hours of Self-Study CE contact hours (all modules must be completed to obtain these contact hours)

7 hours of LIVE Event CE contact hours (you must attend all 7 LIVE Webinars)
In order to obtain these contact hours you will need:
To complete all Lesson modules (there is a tracking system that monitors if you watched all lectures to their completion and opened all lesson modules, etc.).
To complete a course evaluation through Survey Monkey.
To complete a graded learning assessments for both the self-study modules, and the live modules (you must answer at least 75% of the questions correctly; this score will trigger the release of your certificate by email).
A reminder about self-study and continuing education:
For LCATs in New York State, a self-study course can only equal 1/3 of the required contact hours for your license renewal. So, if your license renews in three years, you will require 36 continuing education contact hours, thus a maximum of 12 of those hours can be self-study. The rest of your contact hours must be live events. This includes online webinars, which CreativeArtsTherapiesOnline.com will be offering on a monthly basis, starting in February of 2017. All enrolled students will be updated on new live and self-study course launches. So keep an eye out for our newsletter!
Subscribe to our newsletter to receive reminders and updates!
---
Please click here for Webinar FAQs.
Please click here for a full webinar calendar.
Please click here for a full list of available self-studies.
---
Your Instructor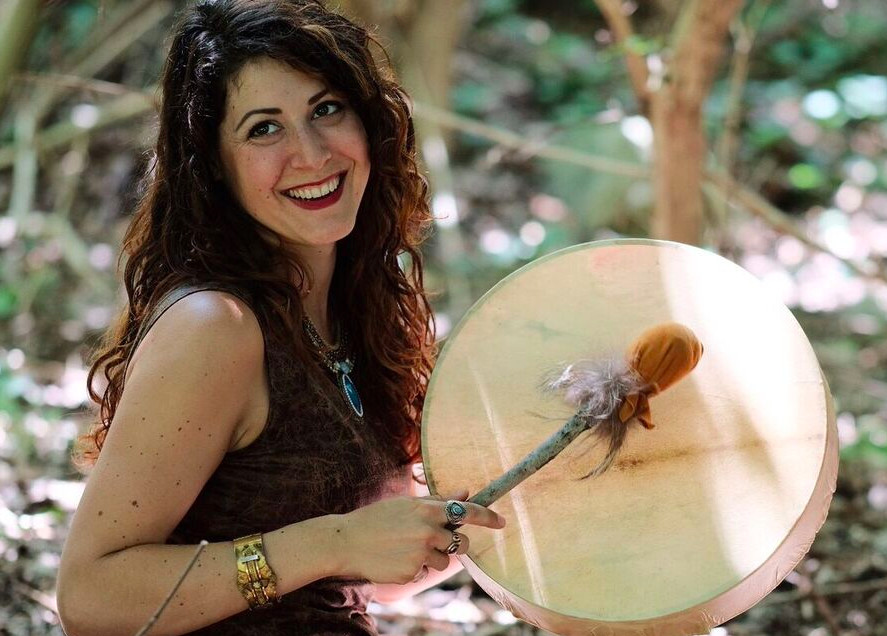 My name is Kristen Boyer and I bridge together traditional psychotherapy practices, holistic health counseling and ancient shamanic healing modalities. I've spent the last 5 years studying with shamans around the world, including those in indigenous societies like the Shipibo people in the Amazon Jungle in Peru to find the best solutions to help my clients heal. I used shamanic healing techniques that are consistent cross culturally among many different indigenous societies.
I have my BA in Psychology from Bloomsburg University, my Masters in Creative Arts therapies from Pratt Institute and my certification in Holistic Nutritional Counseling from the Institute for Integrative Nutrition. With the combination of these tools I help my clients regain their power from past traumas, clear out energetic blockages in their body mind and spirit, and heal unhealthy patterns. The main practice I work with is called soul retrieval. It's believed by indigenous people that when we go through trauma, it's possible that part of our soul can separate from our body causing us to get blocked, feel stuck or feel like we've lost our passion, purpose or power. I combine all of my training to help my clients get their zest for life back.
Frequently Asked Questions
When does the course start and finish?
The course starts now and never ends! It is a completely self-paced online course - you decide when you start and when you finish.
How long do I have access to the course?
How does lifetime access sound? After enrolling, you have unlimited access to this course for as long as you like - across any and all devices you own.
What if I am unhappy with the course?
We would never want you to be unhappy! If you are unsatisfied with your purchase, contact us in the first 30 days and we will give you a full refund.